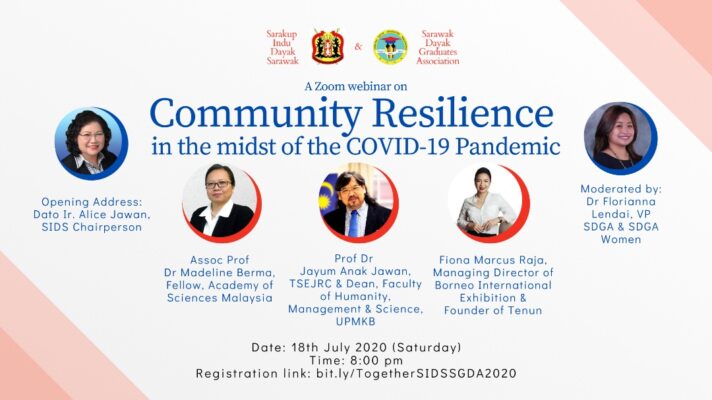 You are invited to an event by Sarakup Indu Dayak Sarawak and Sarawak Dayak Graduates Association. This free ZOOM Webinar event is about "Social Resilience in the midst of the COVID-19 Pandemic".
Date: 18th July 2020 (Saturday)
Time: 8:00 pm
Registration link: bit.ly/TogetherSIDSSGDA2020
Our esteemed speakers are:
Assoc Prof Dr Madeline Berma, Fellow, Academy of Sciences Malaysia
Prof Dr Jayum Anak Jawan, TSEJRC & Dean, Faculty of Humanity, Management & Science, UPMKB
Fiona Marcus Raja, Managing Director of Borneo International Exhibition & Founder of Tenun
Together we explore the challenges, opportunities and shared community values in these unpredictable times. The Dayak community in Sarawak can move forward together as a community, to push for better status in society, well-being, and to be better socioeconomically.
We hope you can join us for this event. The registration link is at: bit.ly/TogetherSIDSSGDA2020
This event will also be broadcasted live on SDGA's Facebook.
Stay safe and see you soon.